QR attended model
What's QR attended model?
After taking a client's order, this model allows an operator to connect the order with a Point of Sale to complete the transaction. This system is recommended for retail and restaurants, among others.
Main characteristics
The main characteristics are:
Operator always works from its Point of Sale system, that was previously set up with a Mercado Pago charge function. From that option, the order is sent to the associated POS.
For a client to make a payment, an order needs to be linked to a POS.
Operator can see the completed payment on its system.
Model flow
Here's an explanation of how this model works: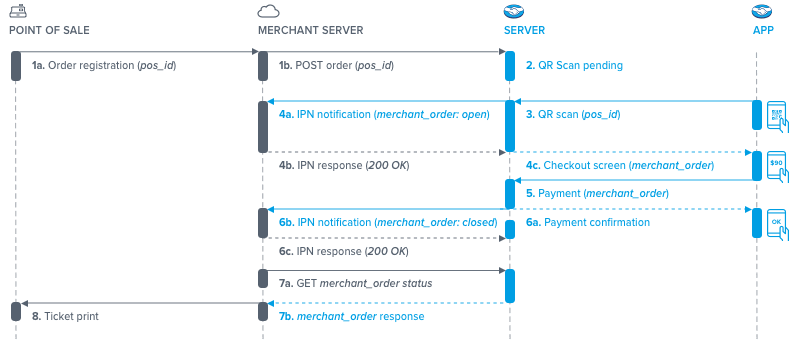 (A) Point of Sale (POS) logs the order and sends the data to merchant server.

(B) Merchant server sends order to Mercado Pago server with a pos_id. 2. Order is linked to a QR code and ready for the client to scan. 3. Client scans QR and Mercado Pago looks for the order through pos_id. If the client scans before the start of the order registration, flow is not affected. 4. (A) Then, merchant server gets a notification for the order.
(B) Reception is confirmed.
(C) The client will see the order to complete payment inside the app.
5. Finally, the client pays the order. 6. (A) Client will see a payment confirmation.
(B) merchant server will receive a notification for the order.
(C) And seller will confirm reception. 7. (A) merchant server asks for order status with ID received in the last notification to know if it's closed or still remains open.
(B) Mercado Pago returns respective data like status and payment information, among others. 8. Once order is closed, receipt can be printed.
Next steps