New plugin for Adobe Commerce (Magento)
22-09-2023
Mercado Pago is always looking for the best solutions for your online store to sell more, that is why we developed a new plugin that allows you to use Transparent Checkout and Checkout Pro.


The new plugin for Adobe Commerce offers a native payment option and its main update, in addition to the technical and architectural improvements, is the option to pay with two cards, besides the traditional payment methods via Pix and invoice.


If your customer currently uses the 3.5 to 3.19 versions, we recommend migrating to the current version in order to benefit from more resources and full compatibility with the latest platform updates, which you can check out on our Changelog page.


How to upgrade to the new Adobe Commerce plugin?
The update process is the same as installing the plugin and it must be done following the previous installation process, via Composer, Adobe Commerce (Magento) or FTP.


You can do this while your customer's store is operating normally, which means nothing will be impacted until the process is completed.


What do we mean by that?
It means that you will only disable the previous version when you confirm that the new plugin is running correctly.


To know how to update it, please refer to the documentation "How to upgrade to the new Adobe Commerce plugin".


What has changed?
As we mentioned at the beginning of this article, the new version offers a lot of new features and full compatibility with platform updates.


Therefore, for those who have the plugin versions from 3.5 to 3.19 installed in their online store, we recommend updating it in order to access all the improvements and also because those versions will no longer be updated in terms of resources and corrections.


Here you will find a comparison table showing the differences in terms of the resources between the old and the new versions of the plugin.


Resources per plugin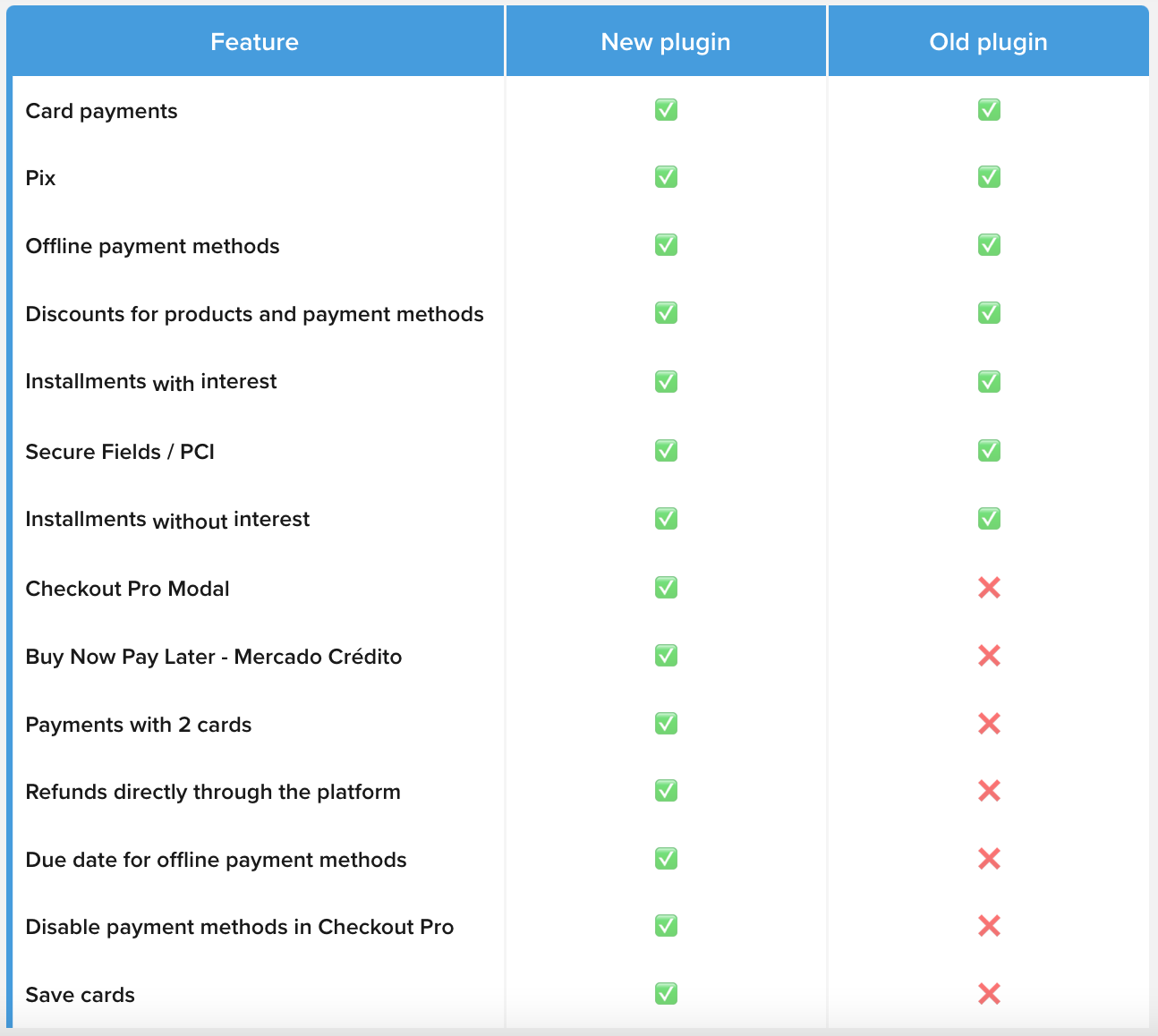 All the documentation was updated to help you migrate to the new plugin version and boost sales of Adobe Commerce (Magento) stores with Mercado Pago!
Did you find this information useful?